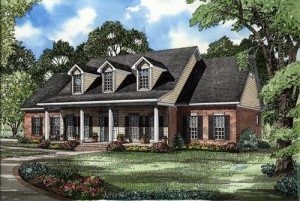 One of the greatest uncertainties for probate clients, probate attorneys and the probate courts after implementation of the new Massachusetts Uniform Probate Code [MUPC] concerns how to deal with the real estate of a decedent's estate. Under prior law, the executor or personal representative simply needed to apply for a license to sell through the court, no matter the proceeding. Now, however, the MUPC has led to different sets of rules for the different types of probate and related circumstances. And in the short amount of time that has passed since the MUPC's passage, certain trends and processes have emerged among probate practitioners. Below is our probate attorney summary on how to sell real estate through the Massachusetts probate process.
Selling Real Estate – Massachusetts Probate Law vs. REBA
The MUPC lists thirty-seven authorized transactions for the personal representative's powers, none of which include selling real estate. But this listing does not restrict the personal representative's authority, rather it leaves the door open for a will to grant further authorities. This is why at the outset most probate practitioners believed that when the MUPC was enacted, the personal representative could sell real estate, so long as that power was written in the will. But entrusting a probate practitioner to write the rules on clearing real estate title is like asking a carpenter to draft architectural plans. Such rules are best left to the experts.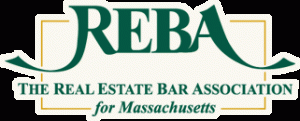 So it was necessary for the Real Estate Bar Association, or "REBA," to weigh in on the subject. Prior to the MUPC, under the old Massachusetts probate code a personal representative had to give notice of the will to all interested parties in advance of applying for appointment, in addition to filing an inventory and account with the court at intervals during the following year. And if real estate were to be sold during this time, she would also need to apply for a "license to sell," once again giving notice to all interested parties before gaining that authority. The MUPC sought to minimize all of these technical hurdles if possible, through the use of the "informal" probate process.
While there are several differences between the informal and formal probate processes, REBA was mainly concerned with differences between statutes of limitations. That is, once a formal probate is closed, which can occur as early as 12 months from its opening, any contest or further litigation on the estate will be barred. This is an important point. Because with informal, by contrast, the estate is not finalized in the same way until the later of 12 months after the estate is closed, or 3 years after the date of death. The latter informal process therefore adds an extra 1-2 years of uncertainty on the finality of the estate. And so if real estate is involved, its title is not clear for that same period of uncertainty.
License to Sell Still Required in Most Massachusetts Probates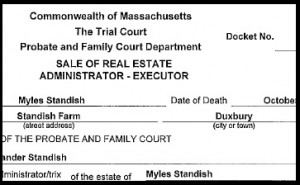 As a result, REBA issued Title Standard number 78, in addition to Title Standard numbers 10, 14, 36, 41, 43, 50 and 71 as of May 7th, 2012. We will not write those standards out here, but suffice it to say that the options available to those seeking to sell real estate out of a probate estate are somewhat confusing. Nevermind that different title insurance companies (those entities primarily concerned with the validity of deeds) might require more stringent standards for their own policies. Our recommendation to probate clients who plan to sell Cape Cod or south shore real estate out of a probate estate is simply to initiate the formal process from the beginning.
But just to be concise, the Title Standards technically allow for real estate to be probated in Massachusetts under the following three situations:
If the decedent died intestate (without a will), only after petitioning the court for a separate license to sell real estate – whether under the formal or informal process.
If the decedent died testate (with a will), but the will does not grant the personal representative a power to sell real estate, only after petitioning the court for a separate license to sell real estate – whether under the formal or informal process.
If the decedent died testate, and the will does grant the personal representative a power to sell real estate, no separate petition to sell real estate is required – but only if the probate is initiated under the formal process.
When Real Estate Under Massachusetts Probate May be Sold
There are no formal requirements on when to sell a home out of a probate estate in Massachusetts, but individual circumstances will dictate timing. In order to apply ("petition") for the license to sell, for example, the petitioner must have an offer pending from a potential buyer. The agreed upon purchase price is in fact an essential element of the license to be granted. That means of course that if for some reason, the agreed upon price of the subject real estate is modified under a license to sell, another petition for a license to sell must be granted before the sale can proceed.
In addition, a license to sell real estate under Massachusetts is not granted indefinitely, but for a fixed and certain period of time. Again, the assigned time period ensures extra certainty on title, and on who is legally empowered to convey the property. Under ordinary circumstances the length of this license would yield plenty of time to conduct the sale of real estate. The nature of Massachusetts probate however, as we frequently tell our clients, is that the process can be very unpredictable.
When someone passes away there are often very few, if any, family or friends who have a complete understanding of that person's debts and assets. Accordingly when probate is filed, an unknown creditor's claim may come in. Equally unpredictable is the behavior of a collection of beneficiaries who may be family members with hard feelings, or may simply have different financial needs and/or desires. The best way to navigate these difficult hurdles, of course, is to enlist the services of an experienced probate attorney. Personal representatives seeking expertise in this area should always feel free to call Attorneys Tim McNamara and William Yates for a free consultation at our Sandwich law office, 508-888-8100.
Tweet