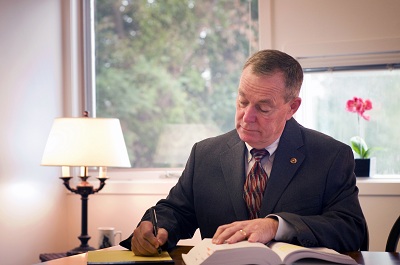 Attorney William M. Yates received his B.A. in Management from the University of South Florida in May 1974 and was commissioned a 2nd Lieutenant in the United States Marine Corps. Major Yates received his MBA from the University of West Florida in May 1981 while serving as a primary flight instructor in Pensacola Florida. After completing 20 years of active duty, primarily as a UH-1 "Huey" helicopter pilot, Lieutenant Colonel Yates, retired from the military.
Attorney Yates received his Juris Doctor from the New England School of Law in 1998. After working for a Hyannis law firm for 5 years, Attorney Yates opened his office in April of 2004.
Attorney Yates accepts cases in the areas of Business Law, Estate Planning & Asset Preservation, Long Term Care Planning, Estate Administration (Probate), and Veterans Benefits Counseling.
Attorney Yates is admitted to practice law in the Commonwealth of Massachusetts and the United States District Court of Massachusetts. He is a member of the Massachusetts Bar Association and the National Academy of Elder Law Attorneys (NAELA). He can be reached via email at Atty.Yates@comcast.net or by phone at 508-888-8100.
Tweet