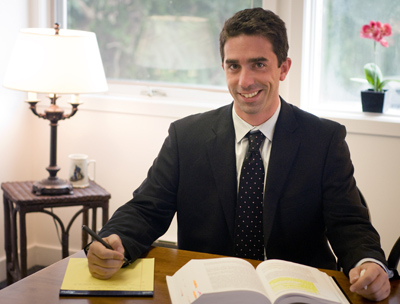 Attorney Timothy J. McNamara received his Juris Doctor from the University of New Hampshire Law School and his Bachelor of Science degree in Business Administration from Massachusetts College of Liberal Arts. Between college and law school he worked in education and marketing management; teaching English for Business at a Chinese University, and serving in the marketing departments at a Hyannis student loan company and at Sunday River Ski Resort in Maine. He grew up and was raised in the Barnstable School System.
Attorney McNamara returned to Cape Cod, Massachusetts in the Summer of 2011, bringing his background and education to the office's primary practice areas of Business Law and Estate Planning. Having a small business of his own, and having spent some of his pre-college years as a Licensed Nurse's Assistant at a nursing home, he has both education and first-hand knowledge on common issues in these areas of law. Attorney McNamara will concentrate his practice in the area of Medicaid and Estate Planning, Probate Administration, and Business Formation.
Attorney McNamara is a member of the Massachusetts Bar Association, the Barnstable County Bar Association, and of the Massachusetts chapter for the National Academy of Elder Law Attorneys. He can be contacted via email at Atty.McNamara@comcast.net or by phone at 508-888-8100.
Tweet