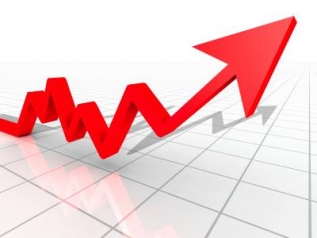 Due to a combination of factors, the cost of nursing home care in Massachusetts is increasing rapidly. Like the greater U.S. healthcare market, the proliferation and growth of new medical technologies and prescription drugs is one of the major contributing factors. Others include increased demand for medical services from the aging baby boomer generation, a significant portion of the population. And of course, the availability of Medicaid to nursing home care providers ensures that any cost of long term care will be covered for those in need, meaning cost containment up to the government's imposed reimbursement level, isn't as important.
But aside from dry economic analyses of Medicaid, nursing home costs are real, and surprisingly high to many individuals and families. And while it is difficult to find up-to-date and accurate information about these costs, we have conducted a bit of research to help our clients understand where nursing home costs in Massachusetts are today in 2012, and more importantly where they are likely headed.
Current Costs of Nursing Home Care in Massachusetts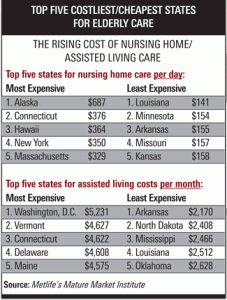 Without delving too much deeper into reasons why, the cost of nursing home care in Massachusetts is relatively high. To be fair, however, the costs are in part due to the fact that Massachusetts has such a high concentration of globally recognized medical centers. But enjoying such benefits do come with a cost, and according to a survey done by MetLife, Massachusetts is the fifth most expensive in the nation behind Alaska, Hawaii, New York and Connecticut. As illustrated in the chart, the average per day cost of nursing home care in Massachusetts came in at about $329. An individual could stay at some of the finest hotels in Boston at that rate.
But not all of these nursing home costs fall under Medicaid coverage. According to the Massachusetts Medicaid Policy institute, MassHealth accounts for over half of nursing homes' revenues in the state. So while 50% of total nursing home costs in the state are currently covered by Medicaid, the figure above includes what residents are paying at more expensive private facilities, of which the state has no shortage.
Massachusetts and Cape Cod Nursing Home Cost Trends
As we noted above, the cost of nursing home care is increasing rapidly. In fact, according to a study recently released by Genworth, nursing home costs are increasing faster than even the out of control college tuition market!
The report examined the company's own cost of care survey conducted between the years of 2005-2011. According to those numbers, in 2011 across Massachusetts the median cost of long term care in a semi-private room came in at $320 daily, or $116,800 annually. The same cost of nursing home care in Barnstable, the largest town on Cape Cod was slightly higher at $328 per day or $119,600 annually.
Numbers that the company compiled for private rooms were of course more expensive, and the whole state registered a median daily cost of $345, or $125,925 annual. Again Barnstable nursing home costs were a little higher at $350 daily and $127,750 annually.
These costs are significantly affected by inclusion of private pay (non Medicaid) institutions, and are re-published here merely to illustrate the company's findings regarding how quickly the these costs are increasing. According to Genworth, the cost of care from 2005-2011 increased annually at an average of 4% state wide and 6% for nursing home care in Barnstable. So for anyone that is considering Medicaid planning under MassHealth, these numbers indicate significant spikes in the cost of long term care on Cape Cod and Massachusetts in the not too distant future.
Real World Numbers from a Cape Cod MassHealth Attorney
As any Cape Cod Medicaid attorney will tell you, these rates are not quite the average for most facilities. In our experience, for example, the Massachusetts Medicaid reimbursement rate contributes $300 per day (2014) to nursing homes for the cost of care. This means that a long term care facility will receive $300 daily for each elderly person without assets that it houses. We rarely find that these same facilities charge as much as $70 over that daily rate as the above figures indicate, but even $300 per day can deplete assets rather quickly.
All of this nevertheless just reinforces what most already know; that early Medicaid planning is important. Our clients come to us at all stages of the planning process, and we do our best to help achieve the goals of the MassHealth applicant and any family members involved in the process. While we wouldn't necessarily describe the process as easy, our experience has been a help to many successful MassHealth benefit recipients.
If you have any clarification on these statistics, this article, or even the cost of nursing home care on the Cape or Massachusetts more generally, don't hesitate to call us at 508-888-8100 or through our contact us page.
Tweet